Release Passion
To surprise a partner, women often buy beautiful erotic underwear, which they wear for a special occasion. But if you want to impress your man, you should choose explicit sexual sets that leave the body almost completely naked. The appearance in such a vestment will not leave the partner indifferent, because in this case he will see his beloved from the other side.
Erotic set with harnesses and garters "Night of secrets"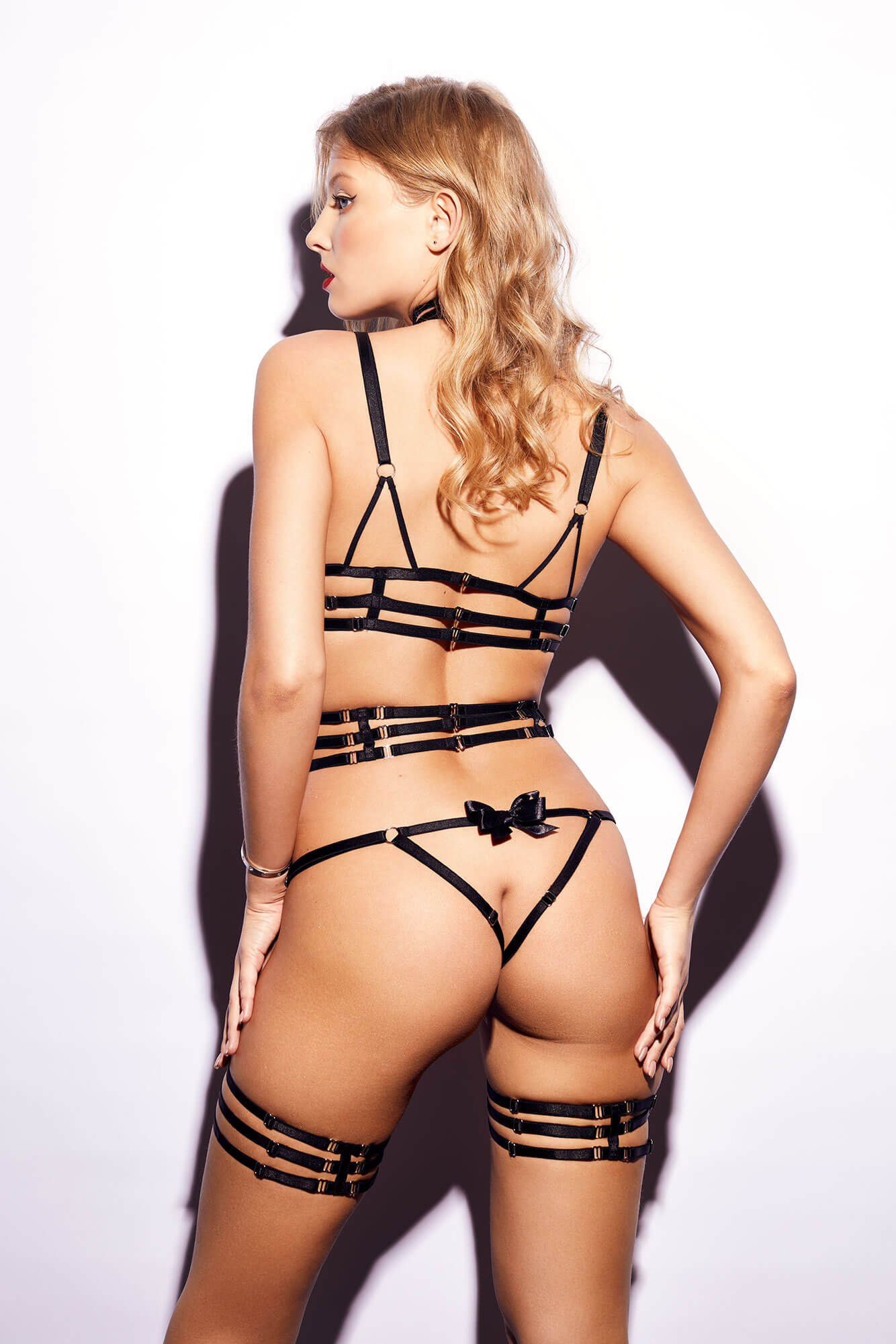 Erotic set with harnesses "Night of enticements"
Erotic set with harnesses "Night of revelations"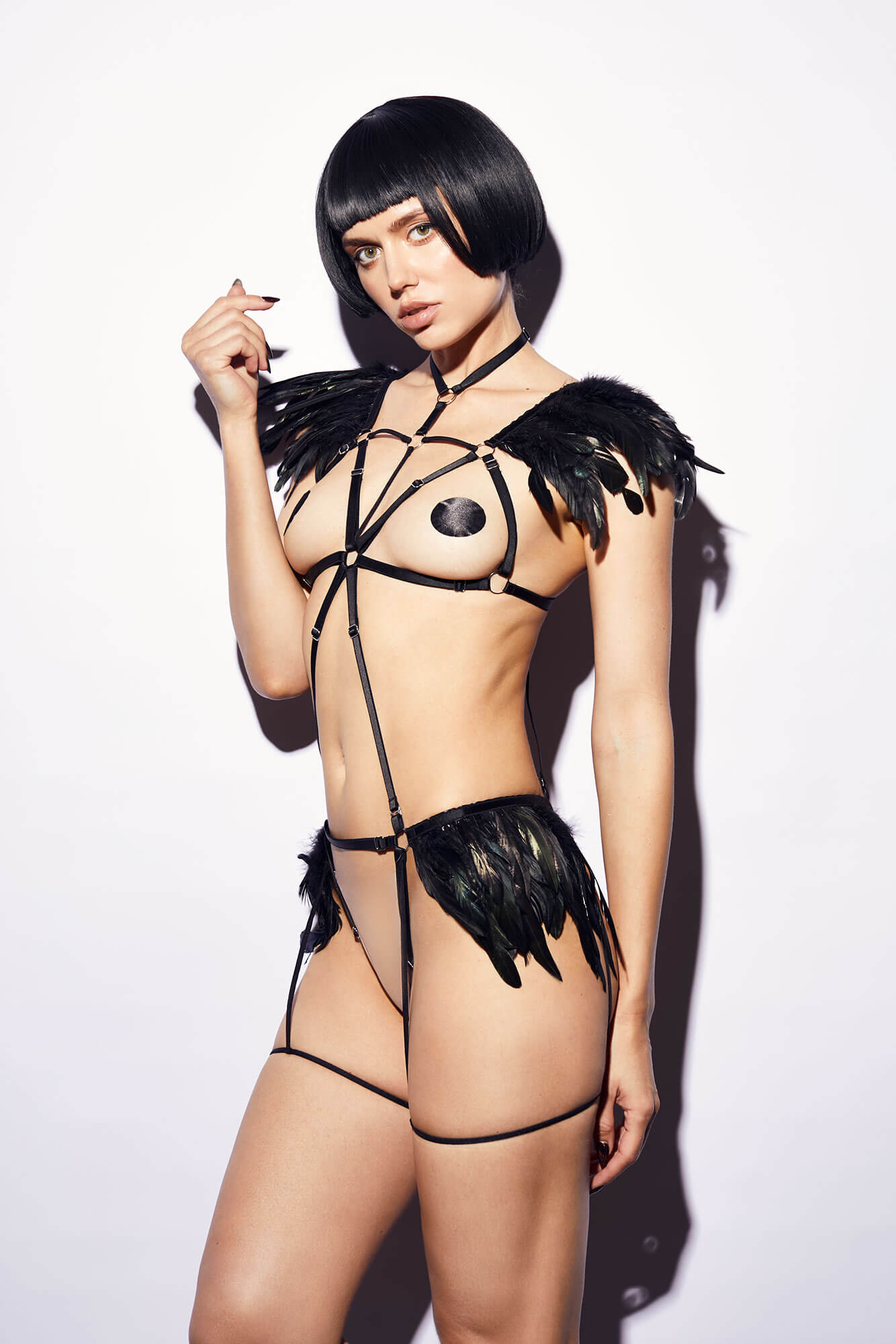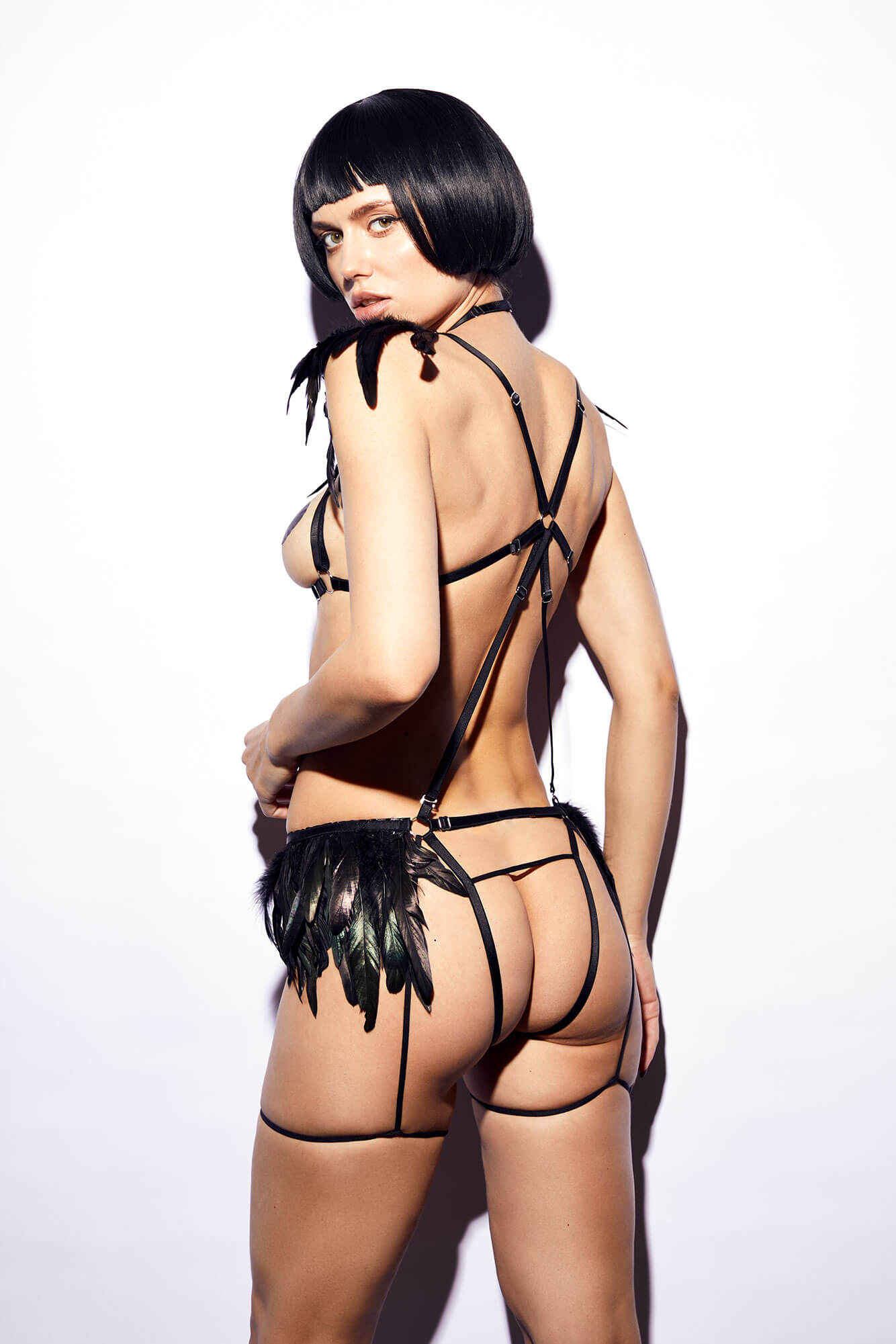 Passionate lingerie with harnesses is one of the most seductive and sensual types of lingerie for women. A harness is a strip of fabric that goes across the abdomen and covers the intimate area, creating an effect of intrigue and excitement. Such lingerie differs from ordinary lingerie sets in its special sexuality and is a great choice for creating an erotic image or for special moments in intimate life.
But passionate lingerie with harnesses not only represents sexuality, but can also emphasize feminine forms, improve self-esteem and add confidence in your own attractiveness. Choosing such lingerie is an individual matter, and every woman can find her own perfect match.
Exquisite Designs
The design of passionate lingerie with harnesses can be very refined and original. It can include various pieces such as ties, bows and so on. The color of Release Passion collection is classic black.
Some designs may be shaped in an unusual way and create more interest in the partner.
In general, the designs of the underwear with harnesses are creative and experimental and may vary from model to model. Every woman can find the harness lingerie that suits her and emphasizes her personality and style.
No matter what style or design you prefer, a linen harness can be a great addition to your lingerie collection. Its unique features make it a comfortable and stylish choice for people who want to add some variety to their intimate lives.
Sensual lingerie with harnesses can suit different people depending on their preferences and style. Firstly, it is a popular choice among models, dancers and artists who often use it in their performances or photo shoots to create a seductive look.
Secondly, harness lingerie can be an interesting option for those who want to add some variety to their intimate life. Finally, lingerie with straps is available in a variety of categories. This allows you to choose a model that suits your individual preferences and requirements. It may include stockings supported by portuppets, with or without visible seams, as well as other details that add charm.
Regardless of your preferred style or design, seductive lingerie with harnesses can be a comfortable and stylish choice for those who want to diversify intimacy and look attractive.
Quality Matters
The quality of harness lingerie plays an important role in a woman's comfort, romantic and confidence. Harness lingerie can be used for special occasions.
Low-quality harness lingerie can cause discomfort, skin irritation and even pressure on the body. In addition, low-quality lingerie can be uncomfortable and clumsy to wear, which can reduce a woman's confidence.
Quality lingerie with harnesses, on the contrary, should provide high comfort and support, give self-confidence and add a touch of elegant and luxury to the image. It is made of quality materials, conforms to individual body sizes and shapes, and retains brightness and shape.
Thus, choosing quality lingerie with harnesses is important for overall comfort and self-confidence, as well as preserving a woman's health and well-being. Buy high quality, seductive lingerie at the bæd Stories online store. Place your order on the website for fast delivery and great prices. Check out the sales section, we often have cheap offers.